Hypoxia and the Hallmarks of Cancer
from HypOxygen
The Hallmarks of Cancer are directly affected, and in many cases even caused, by hypoxia as a defining feature of tumors. Oxygen in the tumor microenvironment and within the cells is central to metabolism, immunology, epigenetics and therapy resistance of all the cancers. The recent review by HypOxystation users Wigerup and Pahlman illustrates how "tumor hypoxia affects most of the Cancer Hallmarks".* Cell culture at very low oxygen in the HypOxystation mimics the in vivo conditions encountered by cancer cells. The HypOxystation hypoxia workstation enables glove-less access to cultivate and manipulate cells under physio- logical conditions, in a HEPA- clean environment.
* "Therapeutic targeting of hypoxia and hypoxia-inducible factors in cancer" Pharmacology & Therapeutics 164 (2016)
---
Why Choose the HypOxystation for Cancer Research Applications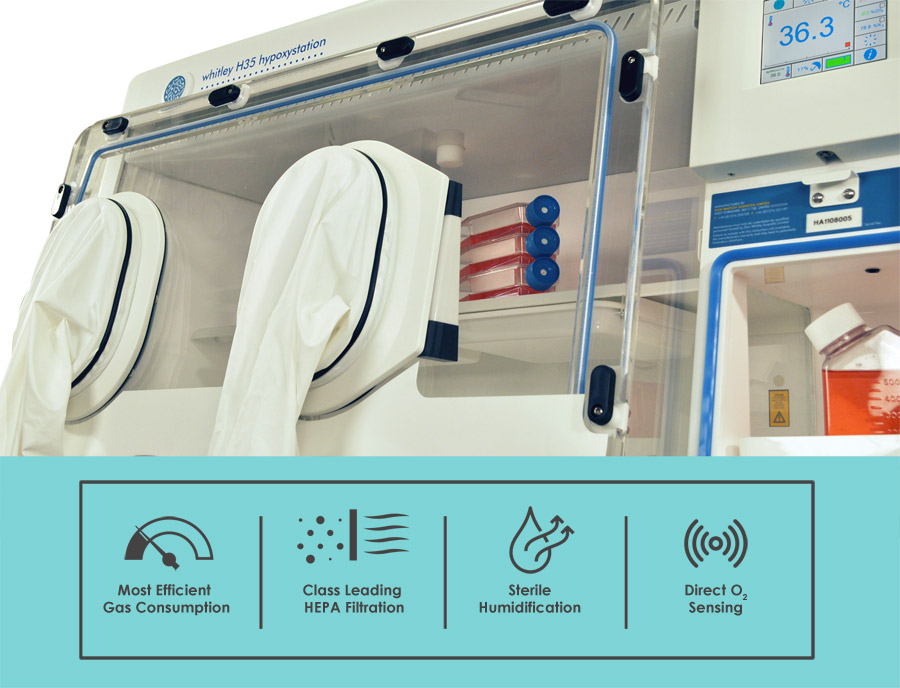 Choose Your Cell Culture Environment
Specifically designed to create normoxic, hypoxic and anoxic conditions within a controlled and sustained workstation environment. This hypoxic incubator is ideal for research requiring the ability to accurately control O2, CO2, temperature and humidity. Application possibilities for HypOxystation are endless; it is being used for research into tumor microenvironment, hypoxia pathways and HIF signaling, in vitro modeling of in situ environments, cancer cell metastasis, angiogenesis, and many other fields where cells may benefit from a physiological atmosphere.
Features
- Control O2 in 0.1% increments from 0.1% - 20%
- Control CO2 in 0.1% increments from 0.1% - 15%
- Control relative humidity up to 90%
- Control temperature easily and precisely
- Touch screen interface to monitor all parameters simultaneously
- Straightforward calibration of gas sensors without removing sensors from the chamber or disrupting the working atmosphere
- Real time feedback system monitors and adjusts O2 levels to insure accuracy; CO2 feedback is also available
- Eight size models to choose from to meet your research needs
Click here for more information on the HypOxystation 
---
What Our Users Are Saying
---
HypOxygen Supports Research
Researcher Travel Grants
Our annual research travel grants are allocated for HypOxystation users and allows receipients to attend conferences, take colleagues, attend meetings and tradeshows, be a keynote speaker, the possibilities are endless!  Here are our past recipients:
2020
Serina Cheung is currently a second year MSc student in Dr. Marianne Koritzinsky's lab. She is investigating the role of p38 mitogen-activation protein kinase in promoting the survival of castration-resistant prostate cancer under hypoxia. 
Ronald Wu is a PhD candidate in Dr. Brad Wouters lab at the University of Toronto and is investigating the role of hypoxia on oxygen-dependent DNA and histone demethylases in glioblastoma. Specifically, he is interested in the epigenetic mechanisms governing self-renewal and differentiation in this deadly brain tumour. 
Sandy Lee is a third year PhD student in Dr. Marianne Koritzinsky's lab within the Institute of Medical Science at the University of Toronto. She is investigating how different levels of oxygen can mediate the folding process of a protein. She is interested in proteins that cause aggressive cancer phenotypes.
Stephanie Hulme is currently a second year MSc student in Dr. Marianne Koritzinsky's lab. She is investigating protein secretion rates of VEGF and CA9 under normoxic and anoxic oxygen conditions.
2019
Dan Cojocari and Elizabeth Koch of the Princess Margaret Cancer Centre in Toronto, Canada. The authors, who grow their cell cultures at very low oxygen in the HypOxystation, presented their findings, "Autophagy Promotes Tolerance to Hypoxia through Maintenance of Metabolic Homeostasis" at the 14th International Wolfsberg Meeting on Molecular Radiation Biology & Oncology in Switzerland.
CellPress Cancer Research Week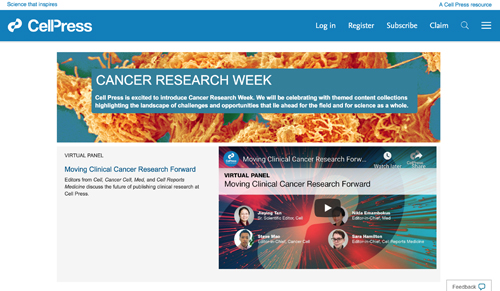 HypOxygen and Don Whitley Scientific are proud to support CellPress in their efforts to provide research information and relevant panel discussions in lieu of conferences and tradeshows for 2020. 
The Cancer Research Hub can be accessed here 
CellPress Selections: Hypoxia in Cancer
HypOxygen and Don Whitley Scientific have teamed up with Cell Press to provide you with the latest research articles involving hypoxia and cancer. The articles compiled in this reprint collection showcase current progress in hypoxia in cancer—from an intravital imaging approach to monitor hypoxic regions in pancreatic cancer to a proposed combination therapy using an antiangiogenic drug to induce hypoxia with a drug targeting lipid metabolism. You can download them here for FREE!
---
Publications
Click table headings to sort by that field.
Research Field
Authors
Title of Paper
Citation/Journal
Publication Date
Country
of Origin
Link to Publication
Cancer
Niu et al.
BRD7 inhibits the Warburg effect and tumor progression through inactivation of HIF1α/LDHA axis in breast cancer
Cell Death Dis. 2018 May; 9(5): 519.
2018
CHINA
Click for
Article
Cancer
Chhipa et al.
AMP Kinase Promotes Glioblastoma Bioenergetics and Tumor Growth
Nat Cell Biol. Author manuscript; available in PMC 2018 Dec 18.
2018
UNITED STATES of AMERICA
Click for
Article
Cancer
Hermann et al.
Magnetic Resonance Imaging for Characterization of a Chick Embryo Model of Cancer Cell Metastases
Mol Imaging. 2018 Jan-Dec; 17: 1536012118809585.
2018
UNITED KINGDOM
Click for
Article
Cancer
Wohlrab et al.
The Association Between Ascorbate and the Hypoxia-Inducible Factors in Human Renal Cell Carcinoma Requires a Functional Von Hippel-Lindau Protein
Front Oncol. 2018; 8: 574.
2018
NEW ZEALAND
Click for
Article
Cancer
Cao et al.
miR-18a reactivates the Epstein-Barr virus through defective DNA damage response and promotes genomic instability in EBV-associated lymphomas
BMC Cancer. 2018; 18: 1293.
2018
CHINA
Click for
Article
Cancer
Jamieson et al.
Evofosfamide for the treatment of human papillomavirus-negative head and neck squamous cell carcinoma
JCI Insight. 2018 Aug 23; 3(16): e122204.
2018
NEW ZEALAND
Click for
Article
Cancer
Al-Mutawa et al.
Effects of hypoxic preconditioning on neuroblastoma tumour oxygenation and metabolic signature in a chick embryo model
Biosci Rep. 2018 Aug 31; 38(4): BSR20180185.
2018
UNITED KINGDOM
Click for
Article
Cancer
Eales et al.
Verteporfin selectively kills hypoxic glioma cells through iron-binding and increased production of reactive oxygen species
Sci Rep. 2018; 8: 14358.
2018
UNITED KINGDOM
Click for
Article
Cancer
Ho et al.
Systemic reprograming of translation efficiencies on oxygen stimulus
Cell Rep. Author manuscript; available in PMC 2016 Mar 9.
2016
UNITED STATES of AMERICA
Click for
Article
Cancer
Gammoh et al.
Suppression of autophagy impedes glioblastoma development and induces senescence
Autophagy. 2016; 12(9): 1431–1439.
2016
UNITED KINGDOM
Click for
Article
Cancer
Leszczynska, et al.
Preclinical testing of an Atr inhibitor demonstrates improved response to standard therapies for esophageal cancer
Radiother Oncol. 2016 Nov; 121(2): 232–238.
2016
UNITED KINGDOM
Click for
Article
Cancer
O'Connor et al.
CYP450 Enzymes Effect Oxygen-Dependent Reduction of Azide-Based Fluorogenic Dyes
ACS Cent Sci. 2017 Jan 25; 3(1): 20–30.
2017
UNITED KINGDOM
Click for
Article
Cancer
Labiano et al.
CD69 is a direct HIF-1α target gene in hypoxia as a mechanism enhancing expression on tumor-infiltrating T lymphocytes
Oncoimmunology. 2017; 6(4): e1283468.
2017
SPAIN
Click for
Article
Cancer
Wadkin et al.
CD151 supports VCAM-1-mediated lymphocyte adhesion to liver endothelium and is upregulated in chronic liver disease and hepatocellular carcinoma
Am J Physiol Gastrointest Liver Physiol. 2017 Aug 1; 313(2): G138–G149.
2017
UNITED KINGDOM
Click for
Article
Cancer
Poupard et al.
Assessment of Heparanase-Mediated Angiogenesis Using Microvascular Endothelial Cells: Identification of λ-Carrageenan Derivative as a Potent Anti Angiogenic Agent
Mar Drugs. 2017 May; 15(5): 134.
2017
FRANCE
Click for
Article
Cancer
Dobrynin et al.
KDM4A regulates HIF-1 levels through H3K9me3
Sci Rep. 2017; 7: 11094.
2017
UNITED KINGDOM
Click for
Article
Cancer
Kelly et al.
Hypoxia activates cadherin-22 synthesis via eIF4E2 to drive cancer cell migration, invasion and adhesion
Oncogene. Author manuscript; available in PMC 2018 Feb 6.
2018
CANADA
Click for
Article
Cancer
Krawczyk et al.
Injury induced expression of caveolar proteins in human kidney tubules - role of megakaryoblastic leukemia 1
BMC Nephrol. 2017; 18: 320.
2017
SWEDEN
Click for
Article
Cancer
Paredes et al.
Poldip2 is an oxygen-sensitive protein that controls PDH and αKGDH lipoylation and activation to support metabolic adaptation in hypoxia and cancer
Proc Natl Acad Sci U S A. 2018 Feb 20; 115(8): 1789–1794.
2018
UNITED STATES of AMERICA
Click for
Article
Cancer
Chandrashekhar et al.
Transducer like proteins of Campylobacter jejuni 81-176: role in chemotaxis and colonization of the chicken gastrointestinal tract
Front Cell Infect Microbiol. 2015; 5: 46.
2015
UNITED STATES of AMERICA
Click for
Article
Cancer
Stivarou et al.
The complex metabolic network gearing the G1/S transition in leukemic stem cells: Hints to a rational use of antineoplastic agents
Oncotarget. 2015 Oct 13; 6(31): 31985–31996.
2015
ITALY
Click for
Article
Cancer
Yu et al.
Berberine may rescue Fusobacterium nucleatum-induced colorectal tumorigenesis by modulating the tumor microenvironment
Oncotarget. 2015 Oct 13; 6(31): 32013–32026.
2015
CHINA
Click for
Article
Cancer
Cheloni et al.
The Leukemic Stem Cell Niche: Adaptation to "Hypoxia" versus Oncogene Addiction
Stem Cells Int. 2017; 2017: 4979474.
2017
ITALY
Click for
Article
Cancer
Yu et al.
Fusobacterium nucleatum Promotes Chemoresistance to Colorectal Cancer by Modulating Autophagy
Cell. Author manuscript; available in PMC 2018 Jan 13.
2017
CHINA
Click for
Article
Cancer
Sordi et al.
Development of Photodynamic Antimicrobial Chemotherapy (PACT) for Clostridium difficile
PLoS One. 2015; 10(8): e0135039.
2015
UNITED KINGDOM
Click for
Article
Cancer
Rodenhizer et al.
A 3D engineered tumour for spatial snap-shot analysis of cell metabolism and phenotype in hypoxic gradients
Nat Mater. 2016 Feb; 15(2): 227–234.
2016
UNITED KINGDOM
Click for
Article
Cancer
Olivares et al.
Collagen-derived proline promotes pancreatic ductal adenocarcinoma cell survival under nutrient limited conditions
Nat Commun. 2017; 8: 16031.
2017
FRANCE
Click for
Article
Cancer
Almodares et al.
Rhodium, Iridium, and Ruthenium Half-Sandwich Picolinamide Complexes as Anticancer Agents
Inorg. Chem., 2014, 53 (2), pp 727–736
2014
UNITED KINGDOM
Click for
Article
Cancer
Padro et al.
Genome-independent hypoxic repression of estrogen receptor alpha in breast cancer cells
BMC Cancer (2017) 17:203
2017
UNITED STATES of AMERICA
Click for
Article
Cancer
Meehan et al.
Inhibition of pH regulation as a therapeutic strategy in hypoxic human breast cancer cells
Oncotarget. 2017 Jun 27;8(26):42857-42875
2017
UNITED KINGDOM
Click for
Article
Cancer
Bulusu et al.
Acetate Recapturing by Nuclear Acetyl-CoA Synthetase 2 Prevents Loss of Histone Acetylation during Oxygen and Serum Limitation
Cell Reports 18, 647–658 (2017)
2017
UNITED KINGDOM
Click for
Article
Cancer
Kalenderoglou et al.
Cannabidiol Reduces Leukemic Cell Size – But Is It Important?
Front. Pharmacol. 8:144 (2017)
2017
UNITED KINGDOM
Click for
Article
Cancer
Lord et al.
Hypoxia Sensitive Metal #-Ketoiminate Complexes Showing Induced Single Strand DNA Breaks and Cancer Cell Death by Apoptosis
J. Med. Chem., 2015, 58 (12), pp 4940–4953
2015
UNITED KINGDOM
Click for
Article
Cancer
O'Connor et al.
Design, synthesis and evaluation of molecularly targeted hypoxia-activated prodrugs
Nature Protocols 11, 781–794 (2016)
2016
UNITED KINGDOM
Click for
Article
Cancer
Horemans et al.
In-vivo evaluation of apocynin for prevention of Helicobacter pylori-induced gastric carcinogenesis
Eur J Cancer Prev. 2017 Jan;26(1):10-16.
2017
BELGIUM
Click for
Article
Cancer
Thoren et al.
Myc-induced glutaminolysis bypasses HIF-driven glycolysis in hypoxic small cell lung carcinoma cells
Oncotarget, 2017, Vol. 8, (No. 30), pp: 48983-48995
2017
SWEDEN
Click for
Article
Cancer
Chen et al.
Autophagy enhanced the radioresistance of nonsmall cell lung cancer by regulating ROS level under hypoxia condition
International Journal of Radiation Biology, 2017 DOI: 10.1080/09553002.2017.1325025
2017
CHINA
Click for
Article
Cancer
Cheloni et al.
Targeting chronic myeloid leukemia stem cells with the hypoxia-inducible factor inhibitor acriflavine
Blood 2017 :blood-2016-10-745588
2016
ITALY
Click for
Article
Cancer
Xintaropoulou et al.
A comparative analysis of inhibitors of the glycolysis pathway in breast and ovarian cancer cell line models
Oncotarget, Vol. 6, No. 28 2015
2015
UNITED KINGDOM
Click for
Article
Cancer
Wilson et al.
Hypoxia inducible factors in liver disease and hepatocellular carcinoma: Current understanding and future directions
Journal of Hepatology 2014 vol. 61, 1397–1406
2014
UNITED KINGDOM
Click for
Article
Cancer
Wigerup et al.
Therapeutic targeting of hypoxia and hypoxia-inducible factors in cancer
Pharmacology & Therapeutics; Vol. 164, August 2016, Pages 152–169
2016
SWEDEN
Click for
Article
Cancer
Wennemers et al.
Regulation of TRIB3 mRNA and Protein in Breast Cancer
PLoS ONE 7(11):e49439 2012
2012
NETHERLANDS
Click for
Article
Cancer
Wennemers et al.
Tribbles homolog 3 denotes a poor prognosis in breast cancer and is involved in hypoxia response
BreastCancerResearch 2011, 13:R82
2011
NETHERLANDS
Click for
Article
Cancer
Weiss et al.
Palladium-Mediated Dealkylation of N-Propargyl-Floxuridine as a Bioorthogonal Oxygen-Independent Prodrug Strategy
SCIENTIFIC REPORTS 5 : 9329 2015
2015
UNITED KINGDOM
Click for
Article
Cancer
Ward et al.
Evaluation of carbonic anhydrase IX as a therapeutic target for inhibition of breast cancer invasion and metastasis using a series of in vitro breast cancer models
Oncotarget. 2015;6(28):24856-24870.
2015
UNITED KINGDOM
Click for
Article
Cancer
van den Beucken et al.
Hypoxia promotes stem cell phenotypes and poor prognosis through epigenetic regulation of ​DICER
Nature Communications 5, Article number: 5203 2014
2014
UNITED STATES of AMERICA
Click for
Article
Cancer
van de Schootbrugge et al.
αB-crystallin stimulates VEGF secretion and tumor cell migration and correlates with enhanced distant metastasis in head and neck squamous cell carcinoma
MCCancer 2013, 13:128
2013
NETHERLANDS
Click for
Article
Cancer
van de Schootbrugge et al.
Effect of hypoxia on the expression of αB-crystallin in head and neck squamous cell carcinoma
BMC Cancer(2014)14:252
2014
NETHERLANDS
Click for
Article
Cancer
Vaapil et al.
Hypoxic Conditions Induce a Cancer-Like Phenotype in Human Breast Epithelial Cells
PLoS ONE 7(9): e46543. doi:10.1371 (2012)
2012
SWEDEN
Click for
Article
Cancer
Uniacke et al.
Cancer cells exploit eIF4E2-directed synthesis of hypoxia response proteins to drive tumor progression
Cancer Res. 2014 Mar 1;74(5):1379-89
2014
CANADA
Click for
Article
Cancer
Tan et al.
Role of Autophagy as a Survival Mechanism for Hypoxic Cells in Tumors
Neoplasia (2016) 18, 347–355
2016
CANADA
Click for
Article
Cancer
Sun et al.
Hypoxic Regulation of Glutamine Metabolism through HIF1 and SIAH2 Supports Lipid Synthesis that Is Necessary for Tumor Growth
Cell Metab. 2014 February 4; 19(2): 285–292
2014
UNITED STATES of AMERICA
Click for
Article
Cancer
Stegeman et al.
Activation of AKT by hypoxia: a potential target for hypoxic tumors of the head and neck
BMCCancer 2012, 12:463
2012
NETHERLANDS
Click for
Article
Cancer
Stegeman et al.
Interaction between hypoxia, AKT and HIF-1 signaling in HNSCC and NSCLC: implications for future treatment strategies
Future Sci. OA (2016) 2(1), FSO84 2016
2016
NETHERLANDS
Click for
Article
Cancer
Starmans et al.
The prognostic value of temporal in vitro and in vivo derived hypoxia gene-expression signatures in breast cancer
Radiotherapy and Oncology 102 (2012) 436–443
2012
NETHERLANDS
Click for
Article
Cancer
Sonke et al.
Inhibition of endogenous hydrogen sulfide production in clear-cell renal cell carcinoma cell lines and xenografts restricts their growth, survival and angiogenic potential
Nitric Oxide 49 (2015) 26-39
2015
CANADA
Click for
Article
Cancer
Škrtić et al.
INHIBITION OF MITOCHONDRIAL TRANSLATION AS A THERAPEUTIC STRATEGY FOR HUMAN ACUTE MYELOID LEUKEMIA
Cancer cell. 2011;20(5):674-688.
2011
CANADA
Click for
Article
Cancer
Schaaf et al.
The autophagy associated gene, ULK1, promotes tolerance to chronic and acute hypoxia
Radiotherapy and Oncology 108 (2013) 529–534
2013
NETHERLANDS
Click for
Article
Cancer
Satani et al.
ENOblock Does Not Inhibit the Activity of the Glycolytic Enzyme Enolase
PLoS ONE 11(12): e0168739. doi:10.1371
2016
UNITED STATES of AMERICA
Click for
Article
Cancer
Sandt et al.
Use of infrared microspectroscopy to elucidate a specific chemical signature associated with hypoxia levels found in glioblastoma
Analyst. 2016 Feb 7;141(3):870-83 2016
2016
FRANCE
Click for
Article
Cancer
Rouschop et al.
PERK/eIF2 α signaling protects therapy resistant hypoxic cells through induction of glutathione synthesis and protection against ROS
PNAS March 19, 2013 vol. 110 no. 12
2013
NETHERLANDS
Click for
Article
Cancer
Rodríguez-Bárzano et al.
Synthesis and anticancer activity evaluation of η5-C5(CH3)4R ruthenium complexes bearing chelating diphosphine ligands
Dalton Trans., 2015,44, 3265-3270
2015
UNITED KINGDOM
Click for
Article
Cancer
Rodenhizer et al.
A three-dimensional engineered tumour for spatial snapshot analysis of cell metabolism and phenotype in hypoxic gradients
Nature Materials 15, 227–234 2016
2016
CANADA
Click for
Article
Cancer
Richards et al.
Cell cycle progression in glioblastoma cells is unaffected by pathophysiological levels of hypoxia
PeerJ 4:e1755 2016
2016
UNITED KINGDOM
Click for
Article
Cancer
Rey et al.
Molecular targeting of hypoxia in radiotherapy
Advanced Drug Delivery Reviews 2016
2016
CANADA
Click for
Article
Cancer
Quero et al.
miR-210 as a marker of chronic hypoxia, but not a therapeutic target in prostate cancer
Radiotherapy and Oncology 101 (2011) 203–208
2011
FRANCE
Click for
Article
Cancer
Prickaerts et al.
Hypoxia increases genome‑wide bivalent epigenetic marking by specific gain of H3K27me3
Epigenetics & Chromatin (2016) 9:46
2016
CANADA
Click for
Article
Cancer
Pietras et al.
JAG2 Induction in Hypoxic Tumor Cells Alters Notch Signaling and Enhances Endothelial Cell Tube Formation
Mol Cancer Res; 9(5) May 2011
2011
SWEDEN
Click for
Article
Cancer
Persson et al.
HIF-2 Expression Is Suppressed in SCLC Cells, Which Survive in Moderate and Severe Hypoxia When HIF-1 Is Repressed
The American Journal of Pathology, Vol. 180, No. 2, February 2012
2012
SWEDEN
Click for
Article
Cancer
Palazon et al.
The HIF-1 Hypoxia Response in Tumor-Infiltrating T Lymphocytes Induces Functional CD137 (4-1BB)
Cancer Discov; 2(7); 608–23 2012
2012
SPAIN
Click for
Article
Cancer
Pahlman et al.
Differential HIF-1α and HIF-2α Expression in Mammary Epithelial Cells during Fat Pad Invasion, Lactation, and Involution
PLOS ONE | DOI:10.1371 2015
2015
FINLAND
Click for
Article
Cancer
Nagelkerke et al.
Hypoxic Regulation and Prognostic Value of LAMP3 Expression in Breast Cancer
Cancer, Volume 117, Issue 16 15 August 2011 Pages 3670–3681
2011
NETHERLANDS
Click for
Article
Cancer
Nagelkerke et al.
Hypoxia stimulates migration of breast cancer cells via the PERK/ATF4/LAMP3-arm of the unfolded protein response
BreastCancerResearch 2013, 15 :R2
2013
NETHERLANDS
Click for
Article
Cancer
Mysore et al.
A DNA binding Molecule Targeting the Adaptive Hypoxic Response in Multiple Myeloma has Potent Anti tumor Activity
Mol Cancer Res March 2016 14:253-266
2016
UNITED STATES of AMERICA
Click for
Article
Cancer
Munksgaard-Persson
HIF-2 Expression Is Suppressed in SCLC Cells, Which Survive in Moderate and Severe Hypoxia When HIF-1 Is Repressed
The American Journal of Pathology, Vol. 180, No. 2, February 2012
2012
SWEDEN
Click for
Article
Cancer
Mujcic
Hypoxic Activation of the PERK/eIF2 α Arm of the Unfolded Protein Response Promotes Metastasis through Induction of LAMP3
Clin Cancer Research 2013;19:6126-6137.
2013
CANADA
Click for
Article
Cancer
Mudie et al.
TX1, a specificity determinant in the HIF-1 α -mediated transcriptional response to hypoxia
Cell Cycle 13:24, 3878--3891; 2014
2014
UNITED KINGDOM
Click for
Article
Cancer
Mohlin et al.
HIF2A and IGF2 Expression Correlates in Human Neuroblastoma Cells and Normal Immature Sympathetic Neuroblasts
Neoplasia 2013 Vol. 15, No. 3, 328-34
2013
SWEDEN
Click for
Article
Cancer
Mohlin et al.
PI3K-mTORC2 but not PI3K-mTORC1 regulates transcription of HIF2A/EPAS1 and vascularization in neuroblastoma
Cancer Res 2015; 75(21); 4617–28
2015
SWEDEN
Click for
Article
Cancer
Martinez-Poveda
Non-invasive monitoring of hypoxia-inducible factor activation by optical imaging during antiangiogenic treatment in a xenograft model of ovarian carcinoma
INTERNATIONAL JOURNAL OF ONCOLOGY 39: 543-552, 2011
2011
SPAIN
Click for
Article
Cancer
Maeda et al.
In Vivo Imaging Reveals Significant Tumor Vascular Dysfunction and Increased Tumor Hypoxia-Inducible Factor-1α Expression Induced by High Single-Dose Irradiation in a Pancreatic Tumor Model.
Int J Radiat Oncol Biol Phys. 2016 Sep 14. pii: S0360-3016(16)33174-
2016
UNITED STATES of AMERICA
Click for
Article
Cancer
Maeda et al.
In Vivo Imaging Reveals Significant Tumor Vascular Dysfunction and Increased Tumor Hypoxia-Inducible Factor-1α Expression Induced by High Single-Dose Irradiation in a Pancreatic Tumor Model.
Int J Radiat Oncol Biol Phys. 2016 Sep 14. pii: S0360-3016(16)33174-
2016
CANADA
Click for
Article
Cancer
Madsen et al.
Hypoxia and loss of PHD2 inactivate stromal fibroblasts to decrease tumour stiffness and metastasis
EMBO Reports (2015) 16:1394–1408
2015
DENMARK
Click for
Article
Cancer
Leszczynska et al.
Mechanisms and consequences of ATMIN repression in hypoxic conditions: roles for p53 and HIF-1
Scientific Reports 6:21698 2016
2016
UNITED KINGDOM
Click for
Article
Cancer
LaChance et al.
DNMT3a epigenetic program regulates the HIF-2α oxygen-sensing pathway and the cellular response to hypoxia
Proc Natl Acad Sci U S A. 2014 May 27; 111(21): 7783–7788
2014
CANADA
Click for
Article
Cancer
Labiano et al.
Hypoxia-induced soluble CD137 in malignant cells blocks CD137L-costimulation as an immune escape mechanism
OncoImmunology Volume 5, Issue 1, 2016
2016
SPAIN
Click for
Article
Cancer
Knoll et al.
Hypoxia regulates TRAIL sensitivity of colorectal cancer cells through mitochondrial autophagy
Oncotarget. 2016 Jul 5;7(27):41488-41504
2016
GERMANY
Click for
Article
Cancer
Jiang et al.
Hypoxia Potentiates the Radiation-Sensitizing Effect of Olaparib in Human Non-Small Cell Lung Cancer Xenografts by Contextual Synthetic Lethality
Int J Radiation Oncol Biol Phys, Vol. 95, No. 2, pp. 772 e781, 2016
2016
UNITED KINGDOM
Click for
Article
Cancer
Hunter et al.
Hypoxia-activated prodrugs: paths forward in the era of personalised medicine
Br J Cancer. 2016 May 10; 114(10): 1071–1077.
2016
UNITED STATES of AMERICA & NEW ZEALAND
Click for
Article
Cancer
Humtsoe et al.
ErbB3 upregulation by the HNSCC 3D microenvironment modulates cell survival and growth
Oncogene 35, 1554-1564 (24 March 2016)
2016
UNITED STATES of AMERICA
Click for
Article
Cancer
Hevia et al.
Human colon-derived soluble factors modulate gut microbiota composition
Front. Oncol. 5:86. 2015
2015
SPAIN
Click for
Article
Cancer
Herzog et al.
Cyclin-dependent kinase 5 stabilizes hypoxia-inducible factor-1α: a novel approach for inhibiting angiogenesis in hepatocellular carcinoma
Oncotarget. 2016 May 10; 7(19): 27108–27121
2016
GERMANY
Click for
Article
Cancer
Herrmann et al.
Cellular memory of hypoxia elicits neuroblastoma metastasis and enables invasion by non-aggressive neighbouring cells.
Oncogenesis. 2015 Feb; 4(2): e138.
2015
UNITED KINGDOM
Click for
Article
Cancer
Hansson et al.
Overexpression of functional SLC6A3 in clear cell renal cell carcinoma
Clin Cancer Res. 2016 Sep 23
2016
SWEDEN
Click for
Article
Cancer
Hamidian et al.
Differential regulation of HIF-1a and HIF-2a in neuroblastoma: Estrogen-related receptor alpha (ERRa) regulates HIF2A transcription and correlates to poor outcome
Biochemical and Biophysical Research Communications 461 (2015) 560 -567
2015
SWEDEN
Click for
Article
Cancer
Hai et al.
TRIM14 is a Putative Tumor Suppressor and Regulator of Innate Immune Response in Non-Small Cell Lung Cancer
Scientific Reports 7, Article number: 39692 (2017)
2017
CANADA
Click for
Article
Cancer
Gomez-Maldonado et al.
EFNA3 long noncoding RNAs induced by hypoxia promote metastatic dissemination
Oncogene (2014), 1–12
2014
SPAIN
Click for
Article
Cancer
Flett et al.
Gulonolactone Addition to Human Hepatocellular Carcinoma Cells with Gene Transfer of Gulonolactone Oxidase Restores Ascorbate Biosynthesis and Reduces Hypoxia Inducible Factor 1
Biomedicines 2014, 2(1), 98-109
2014
NEW ZEALAND
Click for
Article
Cancer
Fitzgerald et al.
Nox4 Mediates Renal Cell Carcinoma Cell Invasion through Hypoxia-Induced Interleukin 6- and 8- Production
PLoS One. 2012; 7(1): e30712
2012
UNITED STATES of AMERICA
Click for
Article
Cancer
Fernandez-Barral
Hypoxia Negatively Regulates Antimetastatic PEDF in Melanoma Cells by a Hypoxia Inducible Factor-Independent, Autophagy Dependent Mechanism.
PLoS ONE 2012; 7(3): e32989.
2012
SPAIN
Click for
Article
Cancer
Elkashef et al.
Polysialic acid sustains cancer cell survival and migratory capacity in a hypoxic environment
Nature Scientific Reports 2016 6:33026
2016
UNITED KINGDOM
Click for
Article
Cancer
Eales et al.
Hypoxia and metabolic adaptation of cancer cells
Oncogenesis (2016) 5
2016
UNITED KINGDOM
Click for
Article
Cancer
Doherty et al.
Photodynamic killing of cancer cells by a Platinum(II) complex with cyclometallating ligand
Nature Scientific Reports 6:22668 2016
2016
UNITED KINGDOM
Click for
Article
Cancer
Djidja et al.
Identification of Hypoxia-Regulated Proteins Using MALDI-Mass Spectrometry Imaging Combined with Quantitative Proteomics
J. Proteome Res., 2014, 13 (5), pp 2297–2313
2014
UNITED KINGDOM
Click for
Article
Cancer
Dixon et al.
Pharmacological inhibition of cystine–glutamate exchange induces endoplasmic reticulum stress and ferroptosis
eLife 2014;3:e02523
2014
UNITED STATES of AMERICA
Click for
Article
Cancer
del Poggetto et al.
Salarin C inhibits the maintenance of chronic myeloid leukemia progenitor cells
Cell Cycle, Vol. 14, Iss. 19, 2015
2015
ITALY
Click for
Article
Cancer
Cronin et al.
High Resolution In Vivo Bioluminescent Imaging for the Study of Bacterial Tumour Targeting
PLoS ONE 7(1): e30940 2012
2012
IRELAND
Click for
Article
Cancer
Cox et al.
The hypoxic cancer secretome induces pre-metastatic bone lesions through lysyl oxidase
Nature 522, 106–110 2015
2015
UNITED KINGDOM
Click for
Article
Cancer
Cox et al.
Dataset for the proteomic inventory and quantitative analysis of the breast cancer hypoxic secretome associated with osteotropism
Data in Brief 5 (2015) 621-625
2015
UNITED KINGDOM
Click for
Article
Cancer
Collet et al.
Endothelial precursor cell-based therapy to target the pathologic angiogenesis and compensate tumor hypoxia
Cancer Letters 370 (2016) 345–357
2016
POLAND
Click for
Article
Cancer
Campbell et al.
Ascorbate availability affects tumor implantation-take rate and increases tumor rejection in Gulo–/– mice
Hypoxia 2016:4 41–52
2016
NEW ZEALAND
Click for
Article
Cancer
Burrows et al.
Hypoxia-induced nitric oxide production and tumour perfusion is inhibited by pegylated arginine deiminase (ADI-PEG20)
Scientific Reports 6, Article number: 22950 2016
2016
UNITED KINGDOM
Click for
Article
Cancer
Banh et al.
PTP1B controls non-mitochondrial oxygen consumption by regulating RNF213 to promote tumour survival during hypoxia
Nature Cell Biology 18, 803–813 (2016)
2016
UNITED STATES of AMERICA
Click for
Article
Cancer
Baker et al.
The HIF-pathway inhibitor NSC-134754 induces metabolic changes and anti-tumour activity while maintaining vascular function
British Journal of Cancer (2012) 106, 1638–1647
2012
UNITED KINGDOM
Click for
Article
Cancer
Asby et al.
Triggering apoptosis in cancer cells with an
Org. Biomol. Chem., 2016
2016
UNITED KINGDOM
Click for
Article
Cancer
Alam et al.
HIF2α contributes to antiestrogen resistance via positive bilateral
Oncotarget 2016, Vol. 7, No. 10
2016
SWEDEN
Click for
Article
Cancer
Ahmadi et al.
Hypoxia modulates the activity of a series of clinically approved tyrosine kinase inhibitors
British Journal of Pharmacology. 2014;171(1):224-236
2014
UNITED KINGDOM
Click for
Article
Cancer
Adriaens et al.
Quantitative analysis of ChIP‑seq data uncovers dynamic and sustained H3K4me3 and H3K27me3 modulation in cancer cells under hypoxia
Epigenetics & Chromatin (2016) 9:48
2016
NETHERLANDS
Click for
Article