Memmert CO2 Incubators
Absolutely precise control of temperature, humidity, O2, and CO2.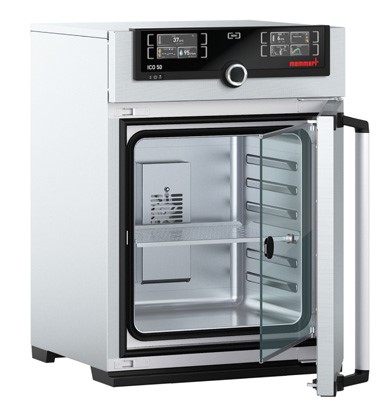 New Sizes Available!
Our popular Memmert CO2 incubators are now available in four new sizes:
These new models feature Memmert's touch screen controller with AtmoCONTROL software. AtmoCONTROL software is the newly developed control and logging software for Memmert incubators. Simply drag and drop the graphical symbol for the desired parameters to the input field and change the values according to your application. AtmoCONTROL allows users to save the log files in various formats.
Additional options for the ICO50, ICO105, ICO150 and ICO240 include battery back up in the event of a power failure and a Peltier cooling option for users who need near ambient conditions.
---
Model sizes: 56/107/156/241 L chamber volume
Temperature range from +20°C to +50°C
Humidity - 88% to 97% rh, or 40% to 97% rh with optional humidity module CO2 content up to 10% standard, or up to 20% with optional CO2 module.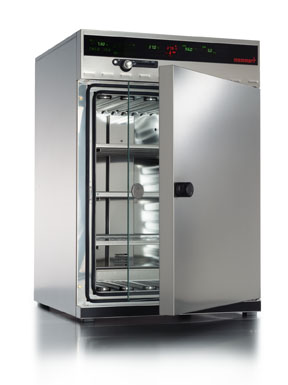 Tissue Flask Rack - Bespoke racks to accommodate popular sizes of cellware.
Oxygen content controlled between 1% and 20% with optional O2 module
Customized models for every application. As much function as needed, as much customization as possible. Put together your own customized INCOmed from 7 additional modules.
For cell cultivation and especially for in-vitro fertilization, the precision and reliability of CO2 incubators are of crucial importance. During cultivation, the slightest deviation in the CO2 atmosphere, temperature or humidity can influence cell development. For this reason, Memmert has subjected its CO2 incubators to a comprehensive evaluation process for their recognition as medical devices.
The classification as class IIa medical device confirms that all Memmert CO2 incubators INCOmed comply with the basic safety requirements of the European Medical Devices Directive 93/42/EEC. Memmert's incubators feature a unique sterilization cycle because simply disinfecting the chamber is not reliable. To prevent cross-contamination, the entire incubator chamber, including the ventilation system, shelves/grids can be sterilized with a 4-hour program at 160ºC. (only available for IN/IFplus models) Ensuring sterility between loads has never been easier.
Comfort Module:Two gas connections with quick release connectors, automatic switch-over between gas bottles (a combination of the Comfort Module and the O2 Module is not possible since the N2 introduction takes place via a second gas bottle connection)
Hygiene Module: Electropolished, seamless laser-welded chamber
Communication Module: USB interface, "Celsius" standard software for programming and protocol logging, ring memory, printer port
CO2 Module: Extended CO2 range from 0% to 20%
O2Module: Control of oxygen concentration by introducing nitrogen, adjustment range from 1% to 20% O2 (combination of Comfort Module or Premium Module and O2 Module not possible, since N2 is introduced via a second gas bottle connection). For applications with a set O2 value of less than 10%, the Humidity Module is highly recommended
Premium Module: Includes Comfort, Hygiene, Communication and CO2 modules
Humidity Module: Active microprocessor humidification and dehumidification control (40% - 97% rh). Recommended for applications with set O2 values of less than 10% (Available only with CO2 Incubators)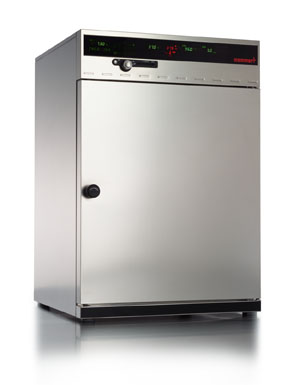 Stainless Steel Construction
The inner chamber of the INCO consists exclusively of high-grade, fully recyclable hygienic stainless steel 1.4301 (ASTM 304). The additional electro-polishing of the chamber, seamlessly welded by laser, ensures particularly smooth surfaces and therefore a reduction in contamination risk (available with optional Hygiene Module). The outer casing is made mainly from sturdy textured stainless steel and is in accord with Memmert's holistic quality philosophy.
Uniformity Inside the Chamber
Chamber heating from all six sides, together with electronic humidity control, is responsible for the optimal temperature and humidity distribution. An aluminum heat-conducting jacket helps to ensure the homogeneity inside the chamber and in addition serves as heat store in case of a temporary supply outage. Despite the appreciably higher density of CO2 compared with air, the turbulence-free chamber ventilation provides a uniformly homogeneous atmosphere.
Memmert special: the all-round heating is located below deep-drawn ribs which carry the non-tipping stainless steel shelves and at the same time ensure optimal and particularly gentle heat transfer to the incubator load.
Short Recovery Times Due to Active Humidity Control
The INCOmed standard model features a humidity limiting system to reduce water tray generated maximum relative humidity inside the chamber from 97% to 88%. To achieve and increase in usable volume, optimum hygiene and short recovery times after opening the door, the optional Humidity Module offers an active humidification system with an adjustment range of 40% to 97% rh can be integrated, introducing sterile hot steam into the air stream.
Germ-Free Through Sterilization, Because Disinfection is Not Sufficient!
Hygiene is the most important factor for highly-sensitive applications with an organic chamber load. To prevent appliance-related cross-contamination, the chamber, including the ventilation system, the water trays and all the sensors can be sterilized in a 4-hour program at 160°C. (in accordance with DIN 12 880: 2007-05). To prevent unintentional start in the CO2 Incubators, the automatic sterilization cycle can only be activated via the MEMMERT STERICard.