The Whitley AsPROvac is an all-in-one laboratory aspirator to ensure biological liquid waste can be aspirated and disposed of quickly and safely. Whether it is the delicate removal of supernatants or the rapid emptying of larger culture flasks, this flexible system has a range of 1 – 20 vacuum levels to alter the aspiration speed. A range of aspiration tools are provided to enable you to aspirate from a variety of vessels.
AsPROvac features a novel, quick-release cap/lid assembly, a shatterproof 4 litre autoclavable waste bottle and digital display of the vacuum level.
Supplied with the hand-held aspirator is a single tip and an 8-channel tip plus a single disposable tip adaptor and an 8-channel tip adaptor.
The AsPROvac laboratory vacuum system is ideal for use  with a Hypoxystation (that has a vacuum take-off port fitted).
Specs:
Capacity (Liters): 4
Dimensions (w/d/h mm): 170 / 320 / 421
Weight (lbs/kg): 8.8 / 4
Features
The AsPROvac laboratory vacuum system has the following features to provide a method of safely aspirating and disposing of biological liquid waste:
Self-closure connectors avoid the escape of liquids and aerosols.
Equipped with a novel, quick-click lid – with no multi-turn screw that the previous user has over-tightened!
Supplied with a 4 litre, shatterproof waste bottle.
Liquid level 'full' indicator.
Features a hydrophobic filter for user protection.
All parts that come into contact with the liquid waste are autoclavable.
Fitted with a handle to make it easy to carry the waste bottle and empty the contents.
A reliable, high quality, all-in-one system with no need for any additional components.
Image Gallery
Featured Videos
Take an closer look at the HypOxystation from Don Whitley Scientific.
Explore the wide range of options to suit your research needs. Larger airlocks for increased trasfer capacity, a sterile humidification system and HEPA filtration are only a few of the custom options you can select. Watch our video to see researchers talk about their applications and the need for fine control over atmospheric conditions in their hypoxic workstations.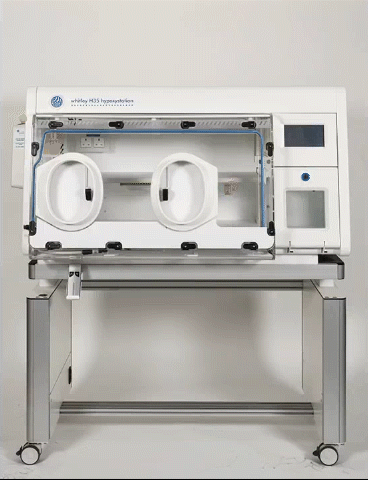 Motorized Trolley