HypOxystation

®

H25
Define your Environment
Like the rest of our line of HypOxystations, the H25 HypOxystation creates hypoxic and anoxic conditions within a controlled and sustained workstation environment, in a new, smaller footprint. Ideal for cell and tissue culture researchers who want a small chamber with stable conditions to accurately control oxygen, carbon dioxide, temperature and humidity.
With the H25 hypoxic workstation, you can control oxygen in 0.1% increments up to 20%; carbon dioxide in 0.1% increments up to 15%; and relative humidity up to 80%. This provides a great deal of flexibility research applications and confidence in results.
This HypOxystation can accommodate 145 x 96 well plates while still leaving more than adequate space to process samples. This workstation is equipped with sleeved ports and has a built-in, rapid airlock that can accommodate 3 x 500ml Duran bottles.
Specs:
Capacity (Liters):180
Airlock Size (Liters): 6
Airlock Cycle Time: 20 Seconds
Gas Supplies: CO2/Air/N2
Dimensions (w/d/h mm): 790 / 720 / 710
Weight (lbs/kg): 163 / 74
Temperature Range: 5°C above ambient to 45°C
Built-in rapid airlock allows items to be transferred into the workstation atmosphere in 20 seconds and the doors are interlocked so they cannot be opened simultaneously
Color, touchscreen control panel for ease of use and for visual display of parameters such as oxygen level, carbon dioxide level, temperature, humidity, and airlock cycle status
Low gas consumption
Fully integrated gas control avoids bulky add-on systems and reduces the need for additional bench space
Optional 15cm single plate entry system fitted to the side of the workstation
Optional data download facility and oxygen profiling
Can be fitted with a range of cable glands and other options to tailor the workstation to your requirements
Integrated gas control minimizes bench space requirements; no bulky external gas mixing system
Data logging of all parameters for up to 30 days
USB port for data transfer
Available O2 profiling
Image Gallery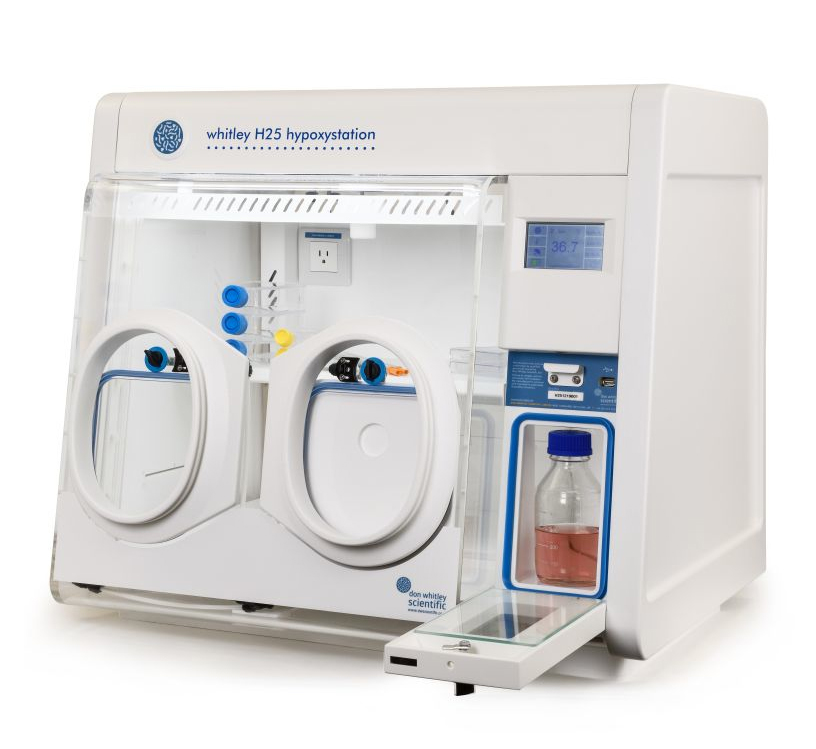 Featured Videos
Take an closer look at the HypOxystation from Don Whitley Scientific.
Explore the wide range of options to suit your research needs. Larger airlocks for increased trasfer capacity, a sterile humidification system and HEPA filtration are only a few of the custom options you can select. Watch our video to see researchers talk about their applications and the need for fine control over atmospheric conditions in their hypoxic workstations.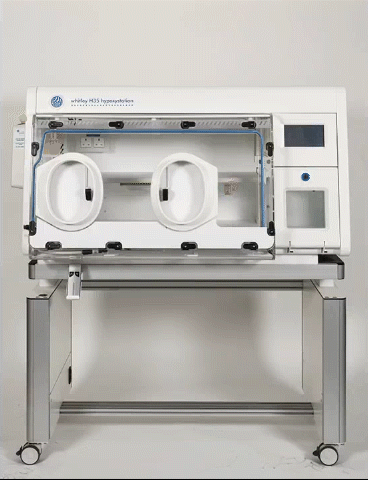 Motorized Trolley