HypOxystation

®

H55
Define your Environment
The Whitley H55, like our other Hypoxystations, provides the facility to mimic in vitro conditions, providing a continuous cell culture environment that eliminates cellular stress linked to variations in temperature, pH levels and oxidation, yielding better cell lines. This workstation has two airlocks and allows you to control O2 in 0.1% increments up to 20%; CO2 in 0.1% increments up to 15%; and relative humidity up to 80%. This provides flexibility in your research and confidence in your results.
The H55 has four oval, sleeved portholes and two airlocks (one on the left and one on the right). Two people can easily work side-by-side in this chamber, in the same environmental conditions.
A HEPA filtered version of the H55 is also available to provide levels of atmospheric cleanliness inside the workstation that exceed the requirements of ISO 14644 Class 3. All the atmosphere inside the chamber passes through the filter hundreds of times an hour, which ensure the chamber environment is cleaned quickly. The Enhanced Biological Containment system can also be specified. This option provides additional safeguards in reducing the possibility of bacteria contained inside workstations being released via the main chamber exhaust valve and the airlock exhaust valve.
If you need to aspirate biological liquid waste from inside the chamber, order with a Vacuum Take-off Port and the Whitley AsPROvac for the perfect package.
If you want to be able to operate your workstation with two different temperature levels, specify the dual temperature option. This provides a central divider between the workstation chambers allowing you to select different temperatures for each side. A manually operated sliding door between the two chambers allows items to be passed from one area into the other.
Applications for this instrument include cancer research, stem cell research, cardiovascular research, as well as many other types of cell and tissue culture work.
Specs:
Capacity (Liters):600
Airlock Size: 12 Liters
Port Airlock Capacity: Up to 44 x 96 well plates or 84 x T25s
Airlock Cycle Time: 60 Seconds
Automatic Dehumidifier: Included
Gas Supplies: CO2/Air/N2
Dimensions (w/d/h mm): 2510 / 720 / 710
Weight (lbs/kgs): 438 / 200
Temperature Range: 5°C above ambient to 45°C
Porthole System: Manual
Footswitch: Wireless
Internal Mains Sockets: Available
Inspection Lamp: Available
Removable Front: Included
Trolley Available: Included
Remote Access: Included
HEPA: Available
Single plate entry system
Data logging and oxygen profiling capability
Internal electrical sockets
Has a capacity of 600 litres.
Removable front as standard on the right-hand half of the unit to facilitate the transfer of bulk samples or larger pieces of equipment for use inside the workstation.
The two rapid airlocks can each accommodate up to 4 x 96-well plates or 84 x T25s. The enable items to be withdrawn at either end of the workstation offering maximum flexibility and improving the workflow in your laboratory. Both airlocks can be operated at the same time and take only 60 seconds.
Color, touchscreen control panel for ease of use and for visual display of parameters such as O2 level, CO2 level, temperature, humidity and airlock cycle status.
Ethernet-enabled for remote access to touchscreen.
Comes complete with custom-designed trolley.
Fully integrated gas control avoids bulky add-on systems and reduces the need for additional bench space.
Automatic commissioning cycle to save you time and resources.
Custom-Designed trolley available
Featured Videos
Take an closer look at the HypOxystation from Don Whitley Scientific.
Explore the wide range of options to suit your research needs. Larger airlocks for increased trasfer capacity, a sterile humidification system and HEPA filtration are only a few of the custom options you can select. Watch our video to see researchers talk about their applications and the need for fine control over atmospheric conditions in their hypoxic workstations.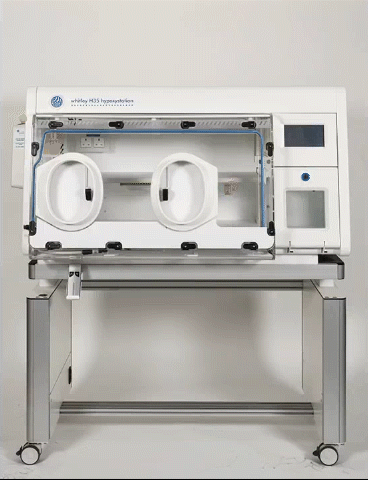 Motorized Trolley