TC-3 and TC-3F Cell Culture Bioreactors 
Mechanical stimulation and force measurement for cell culture made easy
Applications: blood vessels, cardiac muscle, bone, cartilage, ligaments, tendons and skin
Culture chambers are made of autoclavable materials and can be easily assembled and disassembled. Furthermore, visual inspection of the chambers by microscopy techniques is allowed by a optical grade window glass at the bottom of the chamber.
Three different models of interchangeable grips can be used with the TC-3 chambers. They have been designed to adapt to the most different types of samples and loading conditions, so the optimal grip conditions are obtained for plane sheet-shaped, rod-shaped or cylinder-shaped substrates.
Lightweight and all the parts in contact with the culture medium can be sterilized by autoclaving.
Compatible with most incubators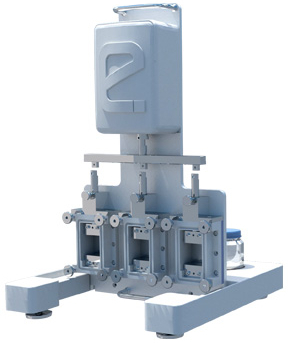 Stimulation Conditions
Tension and compression. Obtain physiological deformation conditions for almost any kind of scaffold. Pulsatile loading shared among specimens.
Tension and flow. Ideal stimulation conditions for tubular scaffolds.
Compression and flow. Use the TC-3 to simulate the deformation conditions in bone scaffolds.
Hydrostatic pressure. Up to 4 bar of hydrostatic pressure stimulation. Optional in-line digital pressure sensor.
Electrical stimulation. Use the electrical stimulation module in combination with the TC-3 to obtain coordinated mechanical and electrical stimulation.
TC-3F. Additional force measurement capabilities to estimate the mechanical resistance of the culture substrate and its evolution during the culture.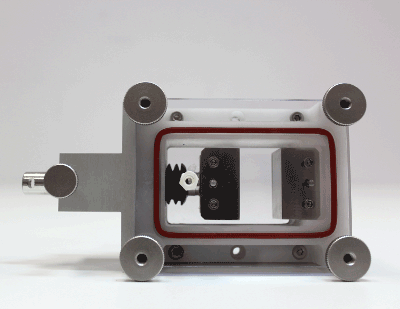 TC-3 Cell Culture Bioreactor Brochure
The TC-3 is a simple and multipurpose cell culture bioreactor designed to provide mechanical stimulation to a variety of samples and tissues. The TC-3 is used with:
Horizontally and vertically arranged multiple samples
Immersed and air-liquid interface setups
Sheet-shaped, rod-shaped and cylinder-shaped substrates
Tension and compression axial loading
Perfusion and instrumentation ports available upon request
TC-3F for force measurement, the TC-3 can be retrofitted
The TC-3 bioreactor enables users to expose cultures to tension and compression mechanical stimuli. It has been designed to accomodate the needs of cell culture researchers, so only the features of tension machines which are basic for the culture of cells have been included in the TC-3.
Microscopic inspection of cultures is of vital importance for the evaluation of culture status. A simple connector module between the culture chambers and the rest of the TC-s deformation system ensures that the chamber can be easily removed from the system maintaining a desired deformation state while it is taken to the microscope for visual inspection of the culture.
Multiple parallel experiments
Up to three chambers can be actuated simultaneously in the TC-3 bioreactor. The loading conditions are 
shared by all the chambers, but each chamber can have either a shared or independent nutrient environment.
Horizontal and vertical configurations
The TC-3 can be configured both in horizontal and vertical configurations depending of the type of experiment. Air-liquid interfaces can be obtained with the horizontal configuration for cultures on sheet-like substrates, whereas the vertical configuration is more suitable for tests in which the sample is subjected to compression such as cultures on cylinder-shaped scaffolds.
Control Software
The TC-3 and TC-3F are controlled by user-definable software to create complex loading profiles to be applied on the culture samples. All the accessory configuration parameters have been removed from the interface, leaving only those which are of interest to be manipulated by the user. A graphical interface allows the user to easily control and check the status of the system without needing to learn to manipulate complex control softwares with a multitude of configuration parameters.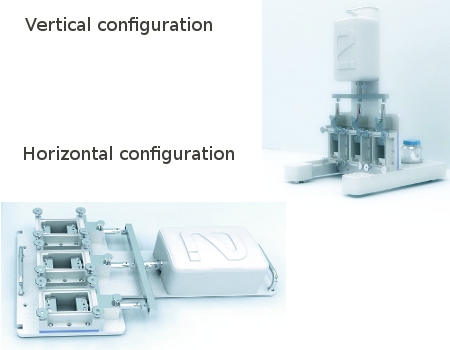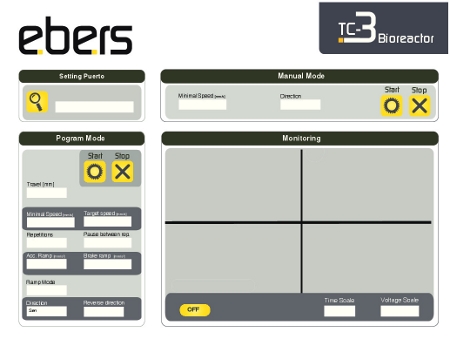 Featured Videos
The most comprehensive stimuli for every kind of tissue using a single device