HypOxystation

®

H155 HEPA
Define your Environment

The Whitley H155 HEPA HypOxystation is the tallest, widest, deepest hypoxic chamber in the HypOxystation range. It has a usable internal capacity of 1,900 liters and can accommodate a variety of equipment items such as live cell imaging devices and microscopes.
The generous internal height facilitates easy pipetting and all cell manipulations can be performed without removing them from your required hypoxic conditions. The H155 HEPA is equipped with the Whitley Internal HEPA Filtration System. Levels of atmospheric cleanliness inside the workstation exceed the requirements of ISO 14644 Class 3 and we can provide proof of atmospheric cleanliness.
This workstation provides precise environmental control while leaving plenty of room to work, incubate and conduct analysis. Two rapid 16 liter airlocks prevent compromising conditions inside the chamber when you are entering and exiting. The airlocks operate independently and take only 60 seconds to run a cycle. Each airlock can accommodate 10 x 500ml Duran bottles.
If you need to aspirate biological liquid waste from inside the chamber, order with a Vacuum Take-off Port and the Whitley AsPROvac for the perfect package.
Specs:
Capacity (Liters):1900
Airlock Size: 16 Liters
Port Airlock Capacity: 20 x 500ml Duran bottles or 40 x plates via 2 airlocks
Airlock Cycle Time: 60 Seconds
Automatic Dehumidifier: Fitted as standard
Gas Supplies: CO2/Air/N2
Dimensions (w/d/h mm): 2875 / 1056 / 993
Weight (lbs/kg): 771 / 350
CO2 Monitoring: Fitted as standard
Temperature Range: 10°C above ambient to 45°C
Porthole System: Manual
Footswitch: Wireless
Internal Mains Sockets: Available
Inspection Lamp: Available
Refrigeration: Available
Microscope: Contact us
Removable Front: Included
Trolley Available: Included
Remote Access: Included
HEPA: As Standard
Control O2 in 0.1% increments from 0.1% - 20%
Control CO2 in 0.1% increments from 0.1% - 15%
Control relative humidity up to 90%
Control temperature easily and precisely
Touch screen interface to monitor all parameters simultaneously
Straightforward calibration of gas sensors without removing sensors from the chamber or disrupting the working atmosphere
Real time feedback system monitors and adjusts O2 levels to insure accuracy; CO2 feedback is also available
Integrated gas control minimizes bench space requirements; no bulky external gas mixing system
Data logging of all parameters for up to 30 days
USB port for data transfer
Available O2 profiling
Custom-Designed trolley available
Options
Electronic Gas Leak Detector
IQ/OQ/PQ
Cable Gland
Vacuum Take-Off Port
Gas Sample Port
Data Logging with Oxygen Profiling
Internal Storage Tray
Automatic Sleeve Gassing System
Multiple Cable Port (extra large)
Front Loading 9cm Letterbox
Whitley Enhanced Biological Containment System
Extra Large Multiple Cable Port
Large Cable Gland
135/155 Turntable Accessory
Temperature Mapping
Single Point Temperature Calibration
Featured Videos
Take an closer look at the HypOxystation from Don Whitley Scientific.
Explore the wide range of options to suit your research needs. Larger airlocks for increased trasfer capacity, a sterile humidification system and HEPA filtration are only a few of the custom options you can select. Watch our video to see researchers talk about their applications and the need for fine control over atmospheric conditions in their hypoxic workstations.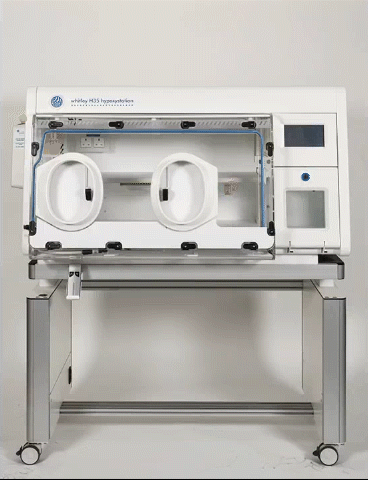 Motorized Trolley