HypOxygen, North American distributors of the Don Whitley HypOxystation, were happy to present Travel Awards to Dan Cojocari and Elizabeth Koch of the Princess Margaret Cancer Centre in Toronto, Canada.  The authors, who grow their cell cultures at very low oxygen in the HypOxystation, presented their findings at the 14th International Wolfsberg Meeting on Molecular Radiation Biology & Oncologyin Switzerland. Congratulations to Elizabeth and Dan on their outstanding work!
"Autophagy Promotes Tolerance to Hypoxia through Maintenance of Metabolic Homeostasis" 

Hypoxia in solid human tumors promotes metastatic capacity and adversely affects therapy response. Hypoxia causes ER stress and activates the unfolded protein response UPR, and induces autophagy as a cytoprotective lysosomal degradation mechanism. Knockdown assays of the autophagy gene ULK1 resulted in accumulation of mitochondria and increased apoptosis, and Cojocari et al. postulate that the role of ULK1 in maintaining mitochondrial homeostasis in hypoxic tumor regions may prove valuable for cancer therapy.
Click here to view the full poster
 "Hypoxia promotes stemness and poor prognosis through epigenetic regulation of DICER"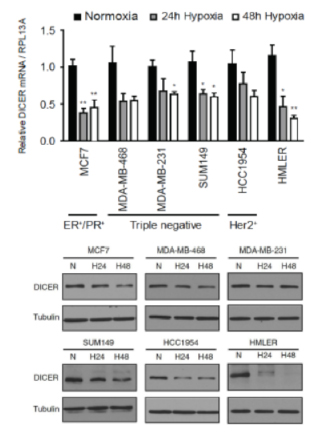 Tumor hypoxia and concomitant reduced expression of DICER, a ribonuclease involved in miRNA processing, are associated with poor clinical outcome in many cancers. In breast cancer, silencing of the DICER promotor through a novel epigenetic mechanism comprising oxygen-dependent demethylases, reduced miR200 processing, and derepression of ZEB1 stimulate the EMT and promote acquisition of stem cell-like properties in mammary epithelial cells.