HypOxystation

®

H135
Define your Environment
HypOxystation is the only hypoxic chamber purpose built for physiological cell culture research. Specifically designed to create normoxic, hypoxic and anoxic conditions within a controlled and sustained workstation environment; this hypoxic incubator is ideal for research requiring the ability to accurately control O2, CO2, temperature and humidity. With such accurate control and the ability to manipulate cells in situ without altering the incubation environment, research into cell biology can be performed over a comprehensive range of oxygen tensions with precision.
The H135 is the tallest, widest, deepest hypoxic chamber in the Whitley range. It has a usable internal volume of over 800 liters and can accommodate a variety of items of equipment such as live cell imaging devices, microscopes, plate readers, etc. The generous internal height facilitates easy pipetting. All cell manipulations can be performed without removing them from your required hypoxic conditions. The entire chamber is a working and incubation space.
This hypoxia workstation has been designed in conjunction with cell biology researchers to ensure ultimate performance combined with user comfort, convenience and reliability.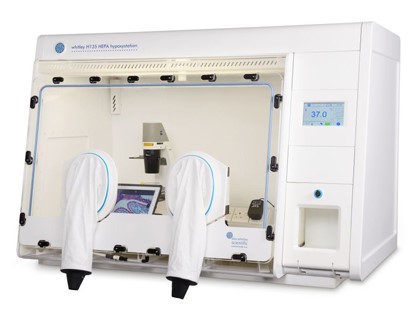 Specs:
Capacity (Liters):826
Airlock Size (d x h): 8.7in x 7.5in
Airlock Cycle Time: 60 Seconds
Automatic Dehumidifier: Fitted as standard
Removable Front: Fitted as standard
Gas Supplies: CO2/Air/N2
External Dimensions (w/d/h in): 57.2 x 41.5 x 41.8
Internal Dimensions (w/d/h in): 41.75 / 29.5 / 28
Weight (lbs/kg): 386 / 175
CO2 Control: Fitted as standard
CO2 Monitoring: Fitted as standard
Temperature Range: 12°C above ambient to 45°C
Electricity: 110V, 50-60 Hz
Control O2 in 0.1% increments from 0.1% - 20%
Control CO2 in 0.1% increments from 0.1% - 15%
Control relative humidity up to 90%
Control temperature easily and precisely
Touch screen interface to monitor all parameters simultaneously
Straightforward calibration of gas sensors without removing sensors from the chamber or disrupting the working atmosphere
Real time feedback system monitors and adjusts O2 levels to insure accuracy; CO2 feedback is also available
Integrated gas control minimizes bench space requirements; no bulky external gas mixing system
Data logging of all parameters for up to 30 days
USB port for data transfer
Available O2 profiling
Image Gallery
Featured Videos
Take an closer look at the HypOxystation from Don Whitley Scientific.
Explore the wide range of options to suit your research needs. Larger airlocks for increased trasfer capacity, a sterile humidification system and HEPA filtration are only a few of the custom options you can select. Watch our video to see researchers talk about their applications and the need for fine control over atmospheric conditions in their hypoxic workstations.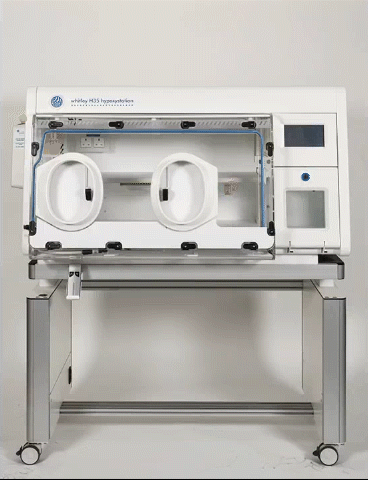 Motorized Trolley