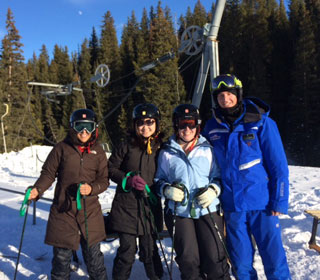 HypOxygen recently attended the Keystone Hypoxia meeting held in Breckenridge, CO. This event focused on advances in understanding the biochemistry and biology of hypoxia signaling and their impact on cell biology, physiology and medicine.
HypOxygen participated in a big way, offering demonstrations of the HypOxystation H35, High on Low Oxygen T-shirts and buttons and a private ski lesson giveaway for one lucky winner and his/her lab colleagues!
Congratulations to Alison Janocha and colleagues from the Lerner Research Institute in Cleveland, Ohio. Here are some photographs showing how very much they enjoyed their prize! The Lerner Research Institute is home to all laboratory-based, translational and clinical research at Cleveland Clinic.