Join us for a live webinar, hosted by Don Whitley Scientific, to discuss the Effects of Hypoxia on the Biology of Tumors and Normal Cells.
There will be a live question and answer session following the presentations.
This event is free to attend but registration is essential.
Date: Wednesday, 20 October 2021
Time: From 9:00AM to 11:00AM EST
9:00
Chair
Introduction
9:10
Speaker 1
Karen J Kirkby, University of Manchester
"Ultra high dose rate (Flash) Proton Therapy."
9:30
Speaker 2
Ernestina Schipani, University of Pennsylvania
"Choke to Start the Engine: How Impairment of Mitochondrial Function Can Improve Survival of Hypoxic Chondrocytes."
9:45
 
Break
10:00
Speaker 3
Ester Hammond, University of Oxford 
"The response to cycling hypoxia and how this can lead to increased APOBEC activity."
10:20
Speaker 4
Mike Merchant and John Warmenhoven, University of Manchester, Evan Kitsell, Don Whitley Scientific
"A well-defined problem is half solved – insights gained from a successful project collaboration."
10:35
Chair/moderator
Question & Answer Session
10:50
 
Closing Remarks
 MEET THE SPEAKERS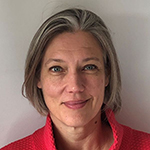 Ester Hammond
Professor Ester Hammond completed her PhD at the School for Cancer Sciences, University of Birmingham then accepted a post as a postdoctoral fellow within the Molecular Oncology Group at the University of Cambridge School of Clinical Medicine before moving to the USA to join the Department of Radiation Oncology at Stanford University, first as a postdoctoral fellow then a research associate.
She joined the Oxford Institute in 2007.
Karen Kirby
Professor Karen Kirkby leads research in PBT and FLASH between University of Manchester and The Christie Hospital. This research aims to address the key scientific and technological challenges for proton therapy.  These involve developing models that enable the proton dose to be biologically optimised to the tumour and its microenvironment.  It also looks at options for proton range verification and determination of stopping powers. Her group numbers ~40 people. She also leads https://protoninspire.eu/

Karen has a research grant portfolio of over £28M from a range of funders, charities and industry. She has over 200 publications, including Nature. Karen writes for popular science magazines and is engaged in outreach.
Ernestina Schipari
Ernestina Schipani, M.D., Ph.D. is the William Wikoff Smith Professor of Orthopedic Surgery at University of Pennsylvania-Perelman School of Medicine. She earned her M.D. and Ph.D. at St. Anna School of Advanced Studies-University of Pisa, Italy. She did her postdoctoral studies at MGH-Harvard Medical School, where she subsequently rose through the ranks and became Associate Professor. She was then recruited to Indiana University-Medical School as a Full Professor of Internal Medicine, and next to University of Michigan Medical School as a Full Professor of Orthopedic Surgery, Medicine and Cell and Developmental Biology.
Early in her career, Dr. Schipani discovered that gain-of-function mutations of PTHR1 cause Jansen disease. Next, she pioneered the notion that hypoxia-driven pathways control skeletal development. Her laboratory has established novel principles in the broader fields of G-protein coupled receptors and hypoxia biology. NIH funds her research as an independent investigator since 1997. She is an ASBMR member since 1992 and an ASCI member since 2005. In 2019, she was the recipient of the ASBMR Paula Stern Achievement Award. Dr. Schipani has authored more than 150 publications.